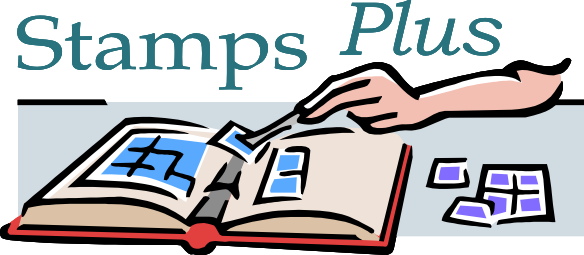 Payment Methods, Shipping and Terms
Payment Methods
I accept Visa, MasterCard, American Express, Discover, JCB and Diner's Club.
I accept checks or money orders. If the check is from outside the United States, it must be payable through a U.S bank and must include a transit code. This is a number in the form xxxx-xxx/xxxxx.
I accept cash. I prefer U.S. Dollars, but I will also accept Canadian Dollars, British Pounds and Euros at the appropriate exchange rate. I will consider other convertible currencies. Please email me first.
I accept PayPal to stamps.plus.usa@gmail.com.
Bank transfers are not routinely done in the U.S. The U.S. does not participate in IBAN. I can only accept a bank transfer through a service. The charge is $15.00. If this is acceptable, please email the address of your bank. I understand that this is unusual, but it is a requirement of the service. After I get the address, I will send the account numbers.
If we haven't done business before, I reserve the right to require prepayment.
If I choose to require prepayment, you will receive an email confirming the total due.
At my option, I may choose to ship the covers without waiting for prepayment. This is usually offered to customers with whom I have an established business relationship.
Your invoice will be clearly marked either Please Pay or Paid.
Prepaying the order does not affect your return privilege.
I will need to know the address to where the bill to you card is sent. You are welcome to enter a separate shipping address.
The charge will be authorized when you submit the order. The charge will not be submitted for payment until the covers are shipped.
Charging the order to your credit card does not affect your return privilege.
There is a $10.00 minimum order.
Shipping
Purchase $100.00 or more and fully insured shipping is free.
Purchase less than $100.00 and fully insured shipping is only $2.50.
All items are sent via first class mail or air mail and are fully covered by private insurance. They are sent at my risk. Should a lot fail to be delivered within 45 days, you will receive a full refund.
If you would like premium shipping, it is available at our cost, please inquire.
Communication
Email communication has become increasingly difficult. Please be certain you will be able to receive email from me . Internet zeitgeist has determined it is better to not get an email you might want than to get an email you might not want. Spam filters have made the receipt any email as a much a matter of chance as design. Please adjust any filters on your local email program to allow email from stamps@stamps-plus.com. Please also contact your ISP and demand that they allow email from stamps@stamps-plus.com.
Delivery
Shipments are made once per week on a Friday morning. On most weeks, the cut off for this Friday morning shipment is at the end of the day Wednesday. The end of the day is typically between 10:00 PM and 2:00 AM. Domestic shipments usually arrive the following Monday, Tuesday or Wednesday. Shipments to Western Europe (except Italy), Japan, Taiwan and Singapore typically see delivery within one week. Other parts of the world can take longer, sometimes far longer. Your patience will be necessary. Credit cards are authorized upon order. The charge will not be processed until 12-14 hours before actual shipment.
Terms
Whether you prepay or receive the items with an invoice, all stamps, first days and stationery are sent on ten day approval with the right of return.
You have ten days to decide if you want to return an item. Allowing your ten days, and 20 days of combined shipping time, all returns must be received by the 30th day after my shipping dater to you.
Stamps, first days and stationery may be returned for any reason or for no reason. Please use some care when ordering. Please only order items that you are at least 50% certain of retaining. If you decide to return more than half of a selection, I cannot send anything else.
All items must be returned in the original holders with the label intact. Do not cut, fold or trim the holder. Do not mark the label. If you receive your items with an invoice, a payment envelope will be included for your convenience. This payment envelope may not be suitable for returns. You must use an envelope large enough to fit the returns. I will not accept the return of anything with an altered hold.
Partial returns are not allowed if the resulting purchase would be under $10.00. In this case, you must return the entire order for a refund.